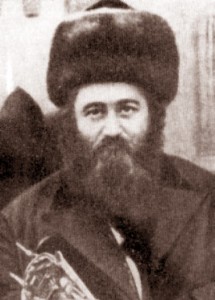 In his short life, Rabbi Meir Shapiro was one of the most influential figures that the Jewish people had in the last century.
First and foremost, he was an absolute genius with a photographic memory. He also was a very handsome person, with an aristocratic bearing. Though an enormous intellect, he touched everyone with his warmth and joy. On top of everything, he was a great musician and a poet.
Yet, when he needed to be strong he was a lion.
Right before the First World War began, he had an offer from a small Polish but important Polish city to become the rabbi there. The name of the city was Galina. In order to prevent him from becoming the rabbi, his mother-in-law did two things. First, she tried to bribe the people in Galina to change their mind. Second, after that didn't work, she tried to bribe him! The story is that she brought 20,000 gold coins and laid it on the table in front of him and said, "Here, this is yours, don't go."
His answer to her was classic. "If 20,000 gold coins can change my mind," he said, "then you're right, I should not go into the rabbinate."
If one has a sincere ambition to be a real rabbi, 20,000 gold coins should not be able to change that decision. And it didn't change his mind. He went to Galina.
Poland was the bastion of Chassidus, traditional Jewry and Jewish scholarship. At the same time, it was the bastion of socialism, the Bund, the labor unions, communism and Zionism. All of these groups were very powerful, yet inimical to each other, and all were vying for the souls of Jewish youth! Galina had all these elements in it when Rav Meir Shapiro became its rabbi.
There are three incidents that show his strength of character even at this early stage. One involved a Jewish butcher who had a non-Jewish partner, which was very common in Poland. The non-Jew was the Polish mafia. When Rav Shapiro became the Rav, he told the butcher that there were certain things that he wanted him to improve, to raise the level of kashrus, and that he would come by on a regular basis to enforce his recommendations. The Jewish partner told the non-Jewish partner that the rabbi said he was going to come and make demands on him.
The first time Rav Meir Shapiro came to the butcher shop the non-Jew said to him, "The next time you walk across that threshold, I'm going to hang you up on a meat hook."
His experience with rabbis until then was a sufficient enough threat to discourage them from coming into the shop again. But not Rav Meir Shapiro. The next morning, he showed up, smiling, said good morning and walked in like nothing happened. At the end, the butcher and his partner had to concede that they were going to do it his way.
There is also the incident based on halachah that a kohen who is not a Sabbath observer should not duchen (stand before the congregation and pronounce the priestly blessing). In Galina, there apparently were a lot of kohanim who were not Sabbath observers but who nevertheless went up to duchen. The first time they did that he stopped them in the middle, called out the names of those who were desecrating the Sabbath and told them to get off.
As you can see, he was not only a person of strong convictions but of iron will and great nerve. He needed these attributes in order to achieve his many great accomplishments.