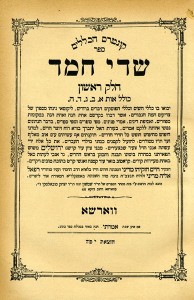 Rabbi Yechezkiya Chaim Chizkiya Medini is known for, and called by, his magnum opus, the Sdei Chemed, which is an encyclopedia of topics in the Talmud and Jewish law, and in which the decisions and discussions of 1800 years are quoted and crystallized. It is really the cornerstone of modern encyclopedic scholarship. In our times, we live in an age of encyclopedic scholarship; this type of scholarship has become very popular and continues to be popular. Rabbi Medini was the forerunner and pioneer of it. The remarkable thing is that he accomplished it mainly all alone by himself.
Rabbi Medini had a photographic memory. Once he saw a book, he would memorize it, until he literally had thousands of books in his mind. In the Crimea, there was no Bodleian Library at Oxford, Library of Congress in Washington or Vatican Library, which were all libraries where many great Jewish scholars had access to books. Rabbi Medini lived in a town where the library barely had one full set of the Talmud!
He not only had a library in his mind, but he began to organize it before writing it down. The topics are presented with a clarity that boggles the mind. Much of the work of the Encyclopedia Talmudica and other such encyclopedic works we have today are based upon the Sdei Chemed. Though over 300 people have contributed to the Encyclopedia Talmudica, when the Sdei Chemed first came out, nobody could imagine that only one person could have produced something like that. On top of everything, he was a prolific writer and published many works – including Shailos UTeshuvos Ohr Li, Michtav L'Chizkiyahu — all sitting alone in a little town in the Crimea.
Despite his isolation for many years, when the rabbinic world discovered him, they sent him questions, asking his opinion and even visiting him. His great encyclopedic knowledge plus his exemplary kindness and piety spread his name far and wide, earning him the reputation of a holy man not only in the Jewish world but the Muslim world as well.
After his death, the last few editions of the Sdei Chemed were published by Lubavitcher Chassidim — even though he was Sephardic and not a Chassid. Nevertheless, because of their affinity for him and his life's work they undertook the task. Now there are many editions of the work, but in those years the only editions were the ones Chabad/Lubavitch published.
The Sdei Chemed is not an easy book to use. Originally, it did not have an index. Since its publication, later editions they have added an index, but the index needs an index. Nevertheless, once you find the topic you're searching for, it's clarity is breath-taking.