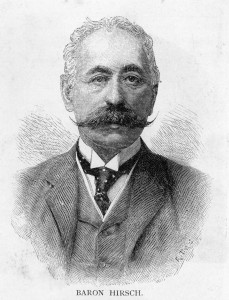 Throughout the 1400s, 1500s, 1600s, and most of the 1700s, Jews lived in small, isolated communities—villages, farms, rural areas—as an agricultural-based people who lived among the peasants of Russia and Poland. With the onset of the Industrial Revolution, the Jews were transformed from an agricultural people to an urban one. This urbanization was taking place among all the peoples of Europe. However the Jews seemed to adapt quicker and more naturally – for better or worse.
For the first time, in the Diaspora at least, there was a substantial entrepreneurial class of Jews for whom other Jews worked. This was the beginnings of what would almost become class warfare among Jews, because the owners naturally saw things one way and the workers saw them another way. The workers saw themselves as being exploited under terrible conditions. Trapped in the middle would be the religious authorities, who somehow would have to make this decision who was right based upon the hard economic realities that they could not control.
Jews played a prominent role in n the textile and tobacco businesses in Eastern Europe. Jews also were active in the building of the railroads in Europe. The Jewish bankers were the major movers. The famous Baron de Hirsch built the Russian railroads. Jewish financiers were very popular throughout the 19th century in Europe.
All of this would naturally rebound in a wave of anti-Semitism, but at the time new areas were opening up for the Jewish people, and even though they could not, as yet, aspire to everything that Europe had to offer, the world certainly was changed. Russia became a rapid subscriber to ideas of industrialization and in fact made the most gains of any country in Europe in the 19th century. They started from so far back, though, that they never quite caught up.