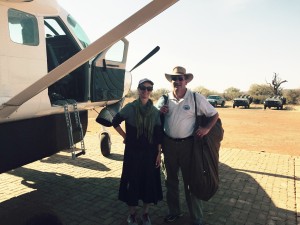 "Will you carry the Torah?"
…our trip captain asked me. "What would be involved?" I wondered aloud, contemplating the gravity of transporting, guarding, and actually carrying a borrowed Sefer Torah in an army issue duffel through 4 South African countries over I 0 days.
The word of G-d, given to the Jewish People, and transmitted over the generations since Mount Sinai – in this very form, without change – it was there, with me, all the time.  I did not stop thinking about it, that Torah scroll, and its significance.
During this summer's Safari adventure and exploration of the dazzling and remote of this world, the Torah lived in my hotel closet.  I was sure to close the door, so it would not be subjected to the physical and mundane of hotel events.   It also rested on a shelf above
my bed in another venue.  Always there, it seemed to ask for the better me.
There were only I 0 couples on this trip, which included one of the great Rabbis of our time.  We had our Minyan, though the holy Rabbi pointed out at the start, "We need everyone."  The Rabbi was speaking like my caring Grandfather, his words expounding
on a more global message for perhaps all of us. My friends there lauded my effort, though my exercise only fueled a desire to learn more about the leaders of Israel that carried this very Torah in the desert during biblical times, through the centuries of Jewish triumph
and challenge, and now in our present day.
Well, "everyone" in this group included different aspects of greatness.  This living Sefer Torah on my shoulder was always on the minds of my travel partners, too.  Alacrity to do Mitzvot was defined for me, as I watched the care for the Torah during its preparation for prayers and its return to the duffel.  I was personally guarded at every step, through different airport, immigration, and customs check points.  There was not one hiccup in every encounter with citizens of other nations.  Baggage porters offering help to carry
this duffel seemed to understand without question that I would be fine to handle this item myself.  My travel partners saw to it that the Torah would fly in first class airplane compartments, and were clear where this Torah, our physical link to the Almighty, was situated at all times.  That Sefer Torah was as essential to us as the air we were breathing. It seemed to carry itself.
As I think back to those I 0 days, I now ask myself for the better me.   On the last early morning of our trek, it was a time for the Torah to be read. Our Safari Guide carne to the hut with his high powered rifle, as protection from the surrounding animal kingdom as we walked to the place where the Minyan would say morning prayers.
With the duffel over my shoulder, carrying the word of G-d in the Sefer Torah, I looked
at the guide in front of me, toting his weapon and said, "Hein, you're  not gonna need that today." I had all the protection I needed right with me.
Thank you, Chevra … I will carry the Torah.
– Kevin Lefcoe