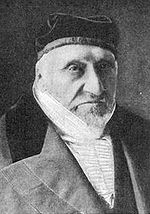 February 15th is the anniversary of the liberation of the Jews arrested in the Damascus blood libel, so today, I thought I would review that notorious chapter in Jewish history.
In 1840, a monk and his servant went missing, and a number of Jews were accused of murdering them to use their blood for ritual purposes. This kind of accusation is called a " blood libel," but until then, they happened strictly to the Ashkenazic Jews of Christian Europe. The fiction that Jews need blood for matzah and wine was a Christian, not an Arab, invention. Therefore, in the Moslem countries, blood libels were unknown, though Jews suffered plenty of other types of persecutions there.
This changed in the early 1800's when France colonized Syria and what is today Lebanon. As part of the heritage of Western culture, the French brought with them this horrible canard that Jews would take the blood of non-Jews and use it for ritual purposes.
The blood libel in Damascus was an especially heinous crime because the French consul who stirred it up was well aware that the people who disappeared had been bumped off because of a much more mundane scandal that had nothing to do with the Jewish community. But for political reasons, France wanted to pursue the matter in this fashion. Therefore, the Turkish authorities arrested the heads of the Jewish community in Damascus. Under torture, they were able to extract a confession that there was such a ritual murder. Of course, under torture, you can get almost anyone to say anything.
Because of this, a large fine was levied against the Damascus Jewish community. Its rabbis were arrested, and some of them died in prison. The rest of the Jewish world rose up in indignation. The Jewish philanthropist Sir Moses Montefiore took the lead to disprove the accusation, traveling from his home in London to Damascus. The Ottoman Turks were none too happy to have him, but because he was traveling under a British diplomatic passport, he and his wife were afforded full honors, and he was able to pressure the Sultan until the remaining prisoners were released. In fact, the Sultan issued an official order that never again in the Turkish empire would such a blood libel be allowed.
But despite the ultimate victory, the blood libel of 1840 represented a shock to the Jewish world. The Jews thought the world had "outgrown" that, especially in the West, where Jews were convinced that Western culture would not accommodate such terrible lies. But the specter of medieval hatred raised its head again, as it does in other forms, even in our times.