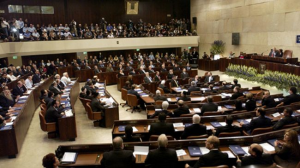 On February 16, 1949, the election of the first president of the State of Israel took place. There were two candidates: Professor Chaim Weizmann, the candidate of Ben Gurion's Mapai party, and Professor Yosef Klausner, a strong right-wing nationalist and the candidate of Menachem Begin's party, the Herut. Klausner had no chance. Everyone knew Weizmann was going to win.
Although this would lead one to believe that the nomination of Weizmann was a mere formality that would not engender any political acrimony (at least outwardly), when his nomination was submitted by a member of the Mapam party, Mr. Parry, he said, "Our faction has decided to support the candidacy of Dr. Chaim Weizmann. In so doing, we demonstrate our appreciation of his personality and his labors over the years on behalf of the Zionist enterprise, as well as his loyal cooperation with the pioneers in the Land of Israel. At the same time, we wish to make it clear that our support for Dr. Weizmann does not indicate at any point support for his past or future political programs. We particularly favor Dr. Weizmann over the candidate of Herut Movement Begin's party, founded by the Irgun, whose character and ambitions are unfortunately well known."
After he spoke, the Herut representative spoke: "The Herut Movement cannot support Chaim Weizmann because the President of Israel must be a wise and devoted man who reflects the tradition of those who pave the way for their people. We will cast our vote instead for Yosef Klausner who has told the whole glorious story of our earlier wars of liberation and who has provided the basic text for a whole generation of fighters and rebels. As for what Parry said a moment ago, I have only one comment: we do not deem it necessary to argue with collaborators, and we do not intend to begin now."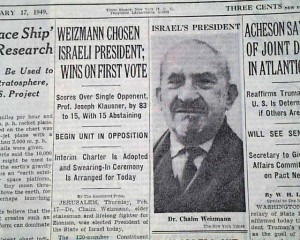 This last remark touched off an uproar in the hall. There were cries of "Boo!" "Fascist!" "Mussolini!" "Collaborators!" The candidate for the Communist Party announced that they would vote for neither Weizmann nor Klausner.
This was the flavor of Israel politics from the beginning – even before the first president was elected. And that flavor has not changed. It is arguably the most raucous Parliament in the world.